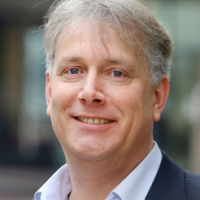 Ivo Ploegsma | Foodworkx
Owner
Ivo Ploegsma works in the Global Food Industry for more than three decades now.
He started his professional career in Alfa Laval Food/Tetra Laval Convenience Food and worked there in various management positions. He participated in the management buy-out of the convenience food division, which was the foundation of Convenience Food Systems (CFS). Over 8 years he was member of the Operating Board of CFS, holding executive positions in Sales, Marketing and Technology.
Today, as founder and managing director of FoodWorkx (The Netherlands), he travels around the world in order to advice and to consult on (new-to-build) Food factories, to study on global and local market trends and developments, and to support Technology Providers on the growth and development of their businesses. This international work and travel includes visits in all continents.
Innovation and cross-industry alliances are leading in creating a sustainable and efficient food security on this planet.
One of his current involvements is the development of Food Tech Brainport, a Dutch-based expertise centre and an important crossover between the agri-food sector, high-tech systems and the chemical sector.


Scheepsboulevard 3, 5705 KZ Helmond The Netherlands





+31653185570

